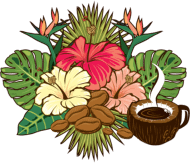 DISCOVER THE BEST OF ESTATE GRADE COFFEE
Uncle Kimo had roots in Hawaiian culture that ran deep as a native Hawaiian. Kimo spent his life in the rich and luscious terrain learning traditional Hawaiian coffee farming techniques that were passed through the generations of his ohana. Uncle Kimo's Kona Coffee is grown solely on the family's 157-acre estate in the cool mountain location of Hualalai Farms. The coffee beans are grown, picked and roasted by hand, because any other way just isn't our style. Each bean is sorted and picked, finding only the best for the roasting process. This process ensures that we provide the most balanced and rich tasting estate grade Kona coffee.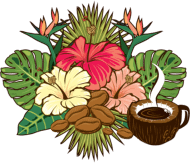 What Makes Kona CoffEe So Special?
Similar to naming restrictions for Champagne, coffee beans sold as 100 percent Kona coffee can refer only to those coffees produced from the growing regions of the Kona district.

Often referred to as the Kona Coffee Belt, this region is only about 20 miles long and a mile wide. Only about 1% of the world's coffee grown is Kona Coffee.
The Location is ideal!
Kona Coffee grows up to 2,500 feet above sea level on the western slopes of the Hualalai and Mauna Loa volcanoes. Facing the setting sun, the region receives shelter from the tradewinds by the mountains.
Afternoon showers brought in by clouds drifting upward provide regular moisture and summer rains. It has the added benefit of rich, volcanic soil that is packed full of minerals.
BREWING TECHNIQUES
Interested in learning new and trendy ways to brew your rich Kona Coffee? Check out some new techniques to unlock the bold flavors of estate grade coffee.
e-Mail
Aloha@UncleKimosKonaCoffee.com
Address
75-5541 Keke St
Holualoa, Hawaii 96725